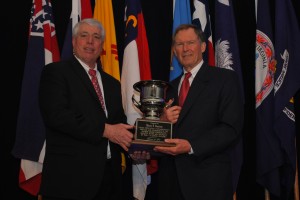 At the National Cotton Council's 2013 annual meeting in Memphis, Staplcotn Board Chairman Woods Eastland was honored with the 2012 Harry S. Baker Distinguished Service Award. Named for the late California industry leader and past NCC President, the award is presented annually to a deserving individual who has provided extraordinary service, leadership and dedication to the U.S. cotton industry.
Eastland is a past chairman of the National Cotton Council (2005), a past president and chairman of Cotton Council International, and a past director of the Memphis Branch Federal Reserve Bank of St. Louis. He was a member of the New York Cotton Exchange board of managers and became a member of the New York Board of Trade's Board of Governors when it was formed from the merger of the Cotton and Coffee, Sugar and Cocoa Exchanges. He served one year as vice chairman of that Board.
NCC Chairman Chuck Coley, who presented the award, said that under Eastland's chairmanship, U.S. cotton industry consensus was maintained on critical trade issues.
Under Woods' leadership, the NCC worked as part of a fiber/textile/labor initiative that was successful in convincing the United States to self-initiate World Trade Organization (WTO)-sanctioned textile safeguards that would impose a measure of discipline on Chinese shipments of textiles into the United States. In addition, U.S. officials were persuaded to make changes in provisions of the DR-CAFTA that led to NCC support for Congressional approval of that regional trade pact.
Coley said Woods also met with Chinese officials in Beijing and Shanghai to build a better understanding of the need for mutually beneficial trade policies and to encourage them to join with the United States in consumer demand-building activities."These efforts served as the foundation for cooperative efforts between both countries that eventually resulted in a long-term relationship and memorandum of understanding between the Council and China Cotton Association," Coley said.
WTO Doha negotiations also were a primary industry focus during Woods' year as Council chairman. He traveled to Geneva twice and to Washington on numerous occasions to meet with key trade officials to discuss the latest developments in the trade talks and convey the cotton industry's message that cotton should not be singled out for different treatment from the rest of agriculture in the negotiations.
Following his service as NCC chairman, Woods continued to provide leadership. He chaired the NCC's Trade Promotion Authority Task Force, which was appointed in 2007 to consider and advise the Board on Trade Promotion Authority policy. He currently is an advisor to the NCC's Board and a member of its Operations Committee.
Other Staplcotn members and leaders who have received this prestigious award include Duke Barr, Bruce Brumfield, Robert Coker, Kenneth Hood, and Bob McLendon.